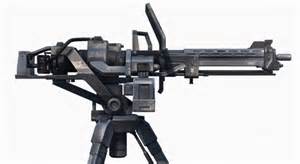 Used by the UNSC during the Human-Covenant War, and possibly before then.
Information
Edit
The Mounted Chaingun is a rapid fire mounted gun, capable of dispatching bogies in seconds, if fired long enough. It also is used on vehicles, such as the Scorpion Main Battle Tank, and the Warthog jeep.
Counterpart
Edit
It's counterpart is the Plasma Cannon, basically a rapid fire version of the Plasma Rifle.